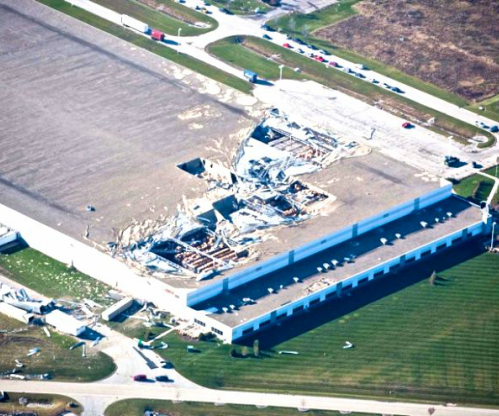 Quality Replaces Roof Nearly 200,000 Sq. Ft After Tornado Strikes
Faced with one of the worst winters in Indiana history; AND, a hole the size of a football field, Quality Roofing teamed up with Duke Construction and a host of other contractors to repair the massive damage.
The CNH Industrial Master Parts Depot took a particularly big hit. This depot supplied parts to 10 other depots in North America, and is the hub of the CNH Industrial parts distribution system. That includes distribution of parts for Case IH, New Holland, Case Industrial and New Holland Industrial Equipment.
Despite extensive damage, Scott Harris, vice president if the division for CNH Industrial, says quick action by security staff prevented injuries. Part of the roof section was damaged, with inside damage as well.
"We are happy to say we had it back up and running before December 9," Harris says. "We took it section by section and put it back together. We are grateful to our partners herein Lebanon and to Duke Realty which is a major partner with our complex here."
Overall, CNH Industrial employs more than 600 people in Lebanon, with up to 100 more employees to be hired to get the Special Processing Center up to full production.